• bespoke wedding dress • Couture wedding dress • designer wedding dress • handbeaded wedding dress • kent • kings hill • maidstone • paddock wood • pen liv • sevenoaks • t wells • tonbridge • tunbridge wells • west malling

THE BRAND Bridal Collective is thrilled to present PEN·LIV, a new collection for brides looking for modern, couture gowns with a youthful, edgy and sexy vibe. As with all of the company's collections, a great deal of emphasis will be placed on craftmanship, fit, and affordability.   THE DESIGNER The design team behind PEN·LIV is led by the award-winning master designer and Artistic Director Kang Chun "KC" Lin, a graduate of the London College of Fashion, who brings an avant-garde inspiration to a timeless design aesthetic. KC has been designing bridal gowns for over 20 years, and he leads a team of...
---
• bridal • bride • dresshopping • eternity bride • trend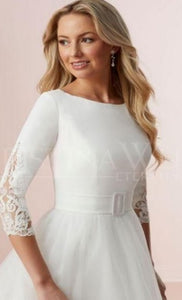 2022 Brides, we're talking to you! We've got all the inside information straight from the catwalk on everything you need to know about next seasons hot new trends, colours, styles, and bridal vibes.                      If anything, the last 18 months has taught us all to think a little more about what we want, and I for one am here for it! It's always lovely if your family and friends like all the ideas and plans you envisage for your big day, but as I always tell my brides it's not them wearing...
---

  A-line - The lines of this silhouette resemble the letter 'A'. This will pull you in at the waist & disguise the hips. Can be a 'full A-line' or a 'modified/slim A-line' which will fit closer to the hips. Ideal for all body types.   Ballgown - The ultimate full skirt, this dramatic silhouette is very forgiving on the lower body & the slim cut bodice highlights the waist. Ideal for most body types. Empire -The high waist design of the Empire silhouette starts just under the bust with a flow of the fabric right to the hem.  It adds length & skims...
---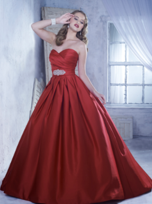 History of the white wedding dress. So, let's get things straight, it's got nothing to do with purity …. its fashion darling!!!! In the 18th century wedding dresses were traditionally not white; brides would wear the best dress they owned which would represent themselves well.  Brightly coloured and bold dresses were popular for those who could afford them as this signified wealth. Extravagant fabrics like fur, silk and velvet would also have been admired.   Those who weren't affluent wore their best church dress, normally this would be dark in colour as it was the easiest to keep. Prior to...
---
• bride • maidstone • veil • wedding • weddingdress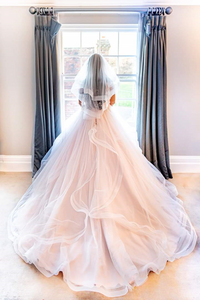 Let's be honest you've probably never worn one before and quite frankly when are you going to get the chance to wear one again! Does the idea of a veil feel daunting? Perhaps you've not really considered it before, or you think it's just too traditional. You've got to at least try some on though, right!? We are very much veil advocates over here but it's your wedding day and you need to feel comfortable.   Traditionally a bride may have worn a veil on her wedding day as a symbol of virginity and modesty. Religious brides would be unveiled...